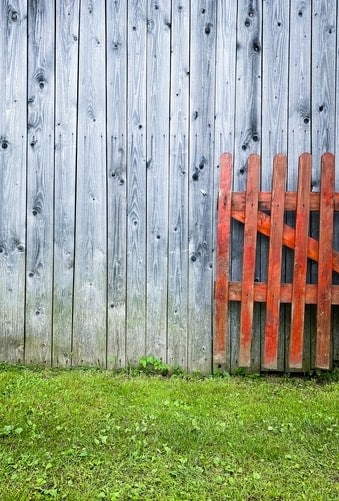 A well-maintained fence is essential for keeping your property secure and looking its best. But over time, even the sturdiest fences can show signs of aging and wear. In this blog post, we'll discuss 4 signs that your fencing has aged beyond repair and what steps you should take to ensure the safety and beauty of your property.
Sign #1: Extensive Damage from Rot, Pests, or Weather
Rot and Insect Damage
One of the most common reasons a fence might need replacing is damage from rot and insects. Wood fencing, in particular, is susceptible to these issues. If you notice extensive rotting, crumbling, or infestations, it's time to consider a new fence. You can explore various fencing options like vinyl fencing or aluminum fencing which are resistant to rot and pests.
Weather-Related Damage
Weather can also take a toll on your fence. Strong winds, heavy rain, and even snow can cause damage to various fence types, including wood, vinyl, and metal. Keep an eye out for signs of weather-related wear, such as cracks, warping, or rust.
Sign #2: Leaning, Warping, or Bowing Panels
Causes of Deformation
Fences can start to lean, warp, or bow due to soil movement, root growth from nearby trees, or improper installation. This deformation is not only unsightly but can also compromise the stability and security of your fence.
Implications for Stability
If your fence panels are no longer standing straight and secure, it's time to consider a replacement. A leaning or deformed fence is not only unattractive, but it can also pose a safety hazard. Check out our new fence installation service to ensure a properly installed and secure fence.
Sign #3: Loose, Missing, or Broken Components
Fence Material Matters
Different fence materials have different lifespans and susceptibilities to damage. For example, wood fences can suffer from rot and insect damage, while metal fences may rust or corrode. Inspect your fence for any loose, missing, or broken components, such as pickets, posts, or rails.
Assessing Your Fence's Integrity
If you find that multiple parts of your fence are damaged or missing, it may be more cost-effective to replace the entire fence rather than attempting to repair it. Consider upgrading to a more durable material, like SimTek Fence or chain-link fencing, which require less maintenance and provide longer-lasting security.
Sign #4: Fading and Discoloration
Effects of Sunlight and Weather
Over time, your fence may start to fade or become discolored due to exposure to sunlight and the elements. This can affect both the aesthetics and the durability of your fence, as weathering can weaken the materials and make them more prone to damage.
Impact on Aesthetics and Durability
A faded or discolored fence can detract from the overall appearance of your property. If you're concerned about the look of your fence and the impact it has on your home's curb appeal, it may be time to invest in a new one. Consider choosing a fence material that is resistant to fading, such as vinyl or iron fencing.
Top 5 Questions About Aging Fences
How can I tell if my fence is beyond repair? Look for signs like extensive damage from rot, pests, or weather, leaning or warped panels, loose or missing components, and fading or discoloration.
What is the average lifespan of a fence? The lifespan varies depending on the material. Wood fences typically last 10-20 years, while vinyl and metal fences can last 20-30 years or more.
Can I repair my fence, or should I replace it? If damage is limited to a few areas and the overall structure is still sound, repair may be an option. However, if multiple components are damaged or missing, it's more cost-effective to replace the entire fence.
What are some low-maintenance fencing options? Vinyl, aluminum, and chain-link fencing are popular low-maintenance choices, as they don't require painting or staining and are resistant to rot, pests, and corrosion.
How do I choose the right fence material for my property? Consider factors like the purpose of the fence, your budget, the desired aesthetic, and maintenance requirements when selecting a fence material.
Utah Fencing Company: Your Trusted Partner
At Utah Fencing Company, we understand the importance of a well-maintained fence for the safety, security, and beauty of your property. We offer a wide range of fencing options, including wood, vinyl, aluminum, and more, to suit your specific needs and preferences.
If you're ready to invest in a new fence, contact us at 801-905-8153 or fill out our online estimate request form to get started. Our team of experienced professionals is dedicated to helping you find the perfect fencing solution for your home or business.