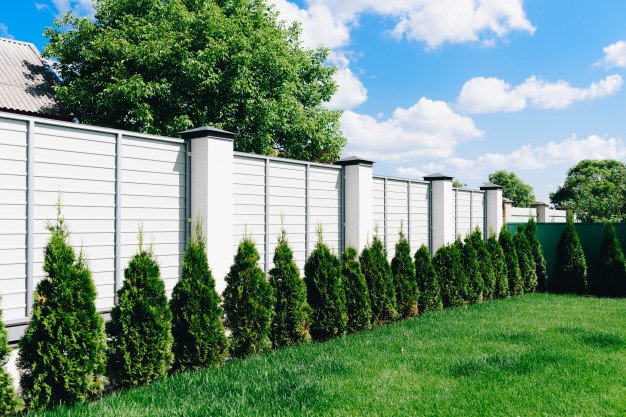 Fencing your outdoor space can offer several benefits. Practically, fencing around your property resolves the issue of privacy and clearly demarcates the property's boundary.
However, it does a lot more.
If you have outdoor plants, a fence can support planters and keep some plants under control. Moreover, the fence also serves a decorative purpose for your outdoor space. It reflects your taste and brings aesthetic appeal to your outdoor. At Utah Fencing Company, we offer endless choices of fence materials and designs, so you get only the best. Here are a few fencing ideas by our experts that you can try as you set out to find the best fence for your property.
#1. Wooden Fence for Privacy
With its great natural look, a wooden fence is one of the most popular fencing choices. It blends well with your outdoor landscaping as well as adds to the privacy of your property. When you pick up a wooden fence for your property, make sure you choose the fencing company that does not compromise on style and quality.
#2. Bamboo Screen for Your Backyard
Do you want to give a tropical feel to your backyard? Go for the inexpensive and lightweight bamboo screen. It is highly functional, creates boundaries, and adds aesthetic appeal to your property.
#3. Chain Link Fence for Your Crops and Pets
If you prefer a fencing idea that allows you to clearly separate different spaces, then a chain-link fence is perfect for you. It is a durable, transparent, cost-effective, yet functional fencing option. A chain-link fence can be a great choice if you wish to contain pets or create a boundary for your crops.
#4. The Lasting Vinyl Fence
If you are looking for something classy and durable, then nothing beats the white vinyl fencing around your property. This popular fencing material is easy to install and maintain, is durable, and can withstand all the undesirable weather effects. Go for these white panels and add style and look to your outdoor space.
#5. Timeless Metal Fencing
The most popular, timeless fencing idea is metal fencing. The sturdy metal fencing protects your property and is great support for your garden. Make sure you pick up the metal that's rust-free and does not have any sharp edges that can be dangerous for pets and young kids.
And there is a lot more that you can find at Utah Fencing Company. We have been serving our clients with top-quality fencing for over two decades. Whether you are looking for fencing your residential or your commercial property, at Utah Fencing Company, there is something for everyone. To know more about what we do and how get in touch now!